U.S. Military Swaps Homosexuals For Laptops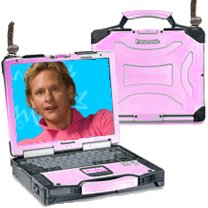 Facing a shortage of arabic translators, the military is purchasing a set of rugged Panasonic Toughbook laptops to be used for computerized English-to-Arabic translation. According to Ars, the machines are not expected to be perfect, but just "good enough" for situations when a translator isn't available.
Is the shortage of translators a result of the Army kicking them out for being gay?
Well, probably not, but I can't help wonder what will happen if the Army accidentally receives a shipment of the new Panasonic Queerbook.