Google Wave and Prism: A Match Made In Heaven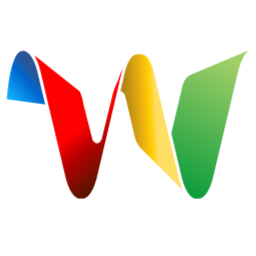 I received a Wave invite from Tim this morning. (Thanks, Tim!)  I'm still not sure of Wave's usefulness as a tool, although I had quite a positive experience doing a little collaborative feedback and editing.  However, after about five minutes of using it, I was sure of one thing:
This thing screams for its own window.
That's where Prism comes in.  Prism allows web applications to be run in a separate browser process, complete with a separate profile, their own window, and a unique taskbar icon.  For long-lived applications like a calendar or a chat tool, this is far more useful and stable than opening yet-another tab.  Furthermore, I like to read web pages in a tall window (roughly the same proportions as an 8.5x11 piece of paper), but I prefer my communications tools in a wide window.  Prism let's me easily size Wave however I'd like.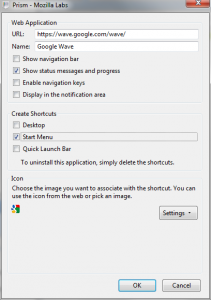 After you install the add-on and restart Firefox, just navigate to Wave, click on the Tools menu in Firefox, and click Convert Website To Application.  You'll want to cut out the cruft from the end of the URL, leaving just https://wave.google.com/wave/.  And it's usually helpful to leave the status bar in place.  If you'd prefer to have wave in the system tray, you can check that box here, too.

You'll also want to pick a different icon – especially if you're on Windows 7.  The default favicon.ico that Prism auto-downloads is very small, and scales up really poorly.  Here's a 256x256 one that I used as a PNG and as an ICO.  It looks great in my task bar.
I also use Prism with Google Calendar and Toodledo, and love it.  And I'm about thiiiis close to pulling Google Docs into it as well.