Fun Watching DNS Propagation
I'm not sure why, but I am fascinated with watching DNS entries propagate through the Internet.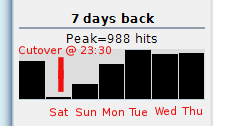 For the most part, the process of cutting over to the new Samus meant copying over this site's database and scripts, and then modifying the domain name entries for ardvaark.net to reference the new IP address.
So here is a graph of the hits on the new server over the past seven days, generated courtesy of Drupal and the Statistics Trends module. I've edited it slightly to show the days and cutover point, and if you squint a bit you can almost see the caches expiring around the net.
Nothing really all that exciting….I just like it. :-)