AuthLite – Two-Factor Authentication For Windows And Active Directory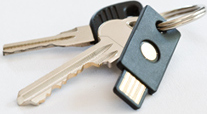 In a keynote talk at the 2004 RSA Conference, Bill Gates predicted the demise of the familiar username-and-password logon.  Yet here we are six years later, with RSA 2010 quickly receding in the rear-view mirror, and the vast majority of us are still using passwords to log in – both at home and at the office.  Unfortunately, though our logins haven't changed, the attacks against them have not failed to advance.  Cracking tools continue to improve exponentially, key loggers are all too commonplace, and users always pick ridiculously poor passwords.
All of us ought to be using multi-factor authentication, but there are myriad reasons so few are.  Most two-factor solutions are too expensive, with prices often skyrocketing over $100 per user, year after year.  Or they're too hard to deploy, and they don't integrate with legacy or COTS software without special plug-ins or customizations.  Unless your company has an unusually large IT budget, chances are your company has been priced out of two-factor authentication.  Not anymore.
AuthLite from Collective Software is affordable two-factor authentication for Microsoft Windows Active Directory.  AuthLite uses one-time passwords generated by the YubiKey, and features deep integration with Windows authentication and leverages your existing Active Directory infrastructure and investment.  AuthLite is inexpensive, and can be ten times less expensive than the market leader.  And AuthLite is designed from the ground up to be easy to deploy, administer, and integrate with existing systems.
I've spent a good deal of my time in the last year-and-a-half working on AuthLite, and I will detail some of its features and technical aspects over a series of blog posts in the upcoming several weeks.  In the meantime, be sure to follow AuthLite on Twitter for up-to-the-minute information and updates.