My 28th birthday was this past Saturday. Since Hedda had already taken me to see Spamalot as my gift, we didn't really have anything planned. She did want to take me out to brunch with a few friends, though. And of course, I threw a huge wrench into those plans.
"How about we just invite a few people over to our place for brunch instead?" I knew that this was going to be insane the moment the words left my mouth, but after a bit of hand-wringing, we decided to do it. So, on Saturday morning, we woke up early and started cooking pancakes for the twenty-some people who had RSVPed.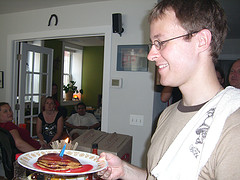 And it was awesome. A whole host of people from all of our different circles showed up and got to mingle. Despite the inability of our air conditioner to keep up with a room full of people and several open flames, everybody had a great time - and we even received several requests to have a similar brunch every weekend. We're looking into it.
Really, though, it wouldn't have been possible without Hedda. She put together the menu, figured out the shopping list, and pre-sliced the fruit and rasberry sauce and other sundry things the night before. How cool is she? You can check out the photos from the event here.
After brunch, we went over to Gaffney's place to attend his last party before leaving for Yale. The theme was "Dress Like an Idiot," and believe me, we did.
So all-in-all, it was a good birthday. Here's hoping 29 will be at least as good!