Oswald Cobblepot For Mayor
While attempting to avoid exposure to the 103º heat index the other day, I was flipping through some channels and stumbled across the campy sequel Batman Returns, starring Danny Devito as The Penguin. The movie is downright awful, and I would have flipped past it, except the scene caught me.
Max Shreck (played by Christopher Walken - how did this terrible movie attact so much talent?!) was convincing the Penguin to run for Mayor of Gotham City. The Penguin is not really sure this is a good idea, but then inspiration strikes: He needs a platform!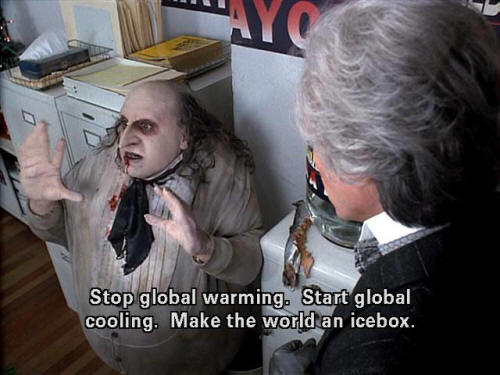 PENGUIN: A platform?

PENGUIN (framing the space in front of him with his flippers): Stop global warming. Start global cooling. Make the world an ice box.

SHRECK: I like it!
Think about this for a moment: This was a joke line in a major summer action movie nearly twenty years ago. The idea of Global Warming was mainstream enough that the writers could a) assume their audience was familiar with it, and b) understand the situation well enough to know that the Penguin's proposed solution was clearly ridiculous.
So here we are, nearly twenty years later: We have progressed from Batman Returns through Batman Forever, Batman & Robin, Batman Begins, and The Dark Knight. How far have we progressed dealing with Global Warming?
It's time to vote for somebody who will make a real difference on Global Warming: Oswald Cobblepot for Mayor!