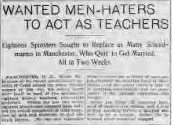 Ever wonder what I do for a living? Check it out: Chronicling America is now live!
That site is the direct public access portion of the National Digital Newspaper Program. The program details are all there on the Library's NDNP page. Feel free to check it out if it suits you; I won't go into it much more here.
But I will talk about the technical aspects of the program. It has consumed me for the last few years now, so I have a lot to say! Those posts will come out in the future, under the Digital Libraries category here on my site. If you're interested only in that, you can subscribe to the Digital Libraries RSS feed.
For now, though, let's take a tour of some of my favorites among the quarter-million-odd pages now online: