Busboys & Poets WiFi Post Makes Print in Express
I just got off the phone with Hedda. She was tipped off by a friend of ours that I had been "quoted in the Express." For those of you who don't know - okay, mostly for my mom - the Express is the Post's free tabloid-style daily paper. It covers a broad scope of news, distilling each into tiny bite-sized nuggets suitable for the modern time starved, attention deficient worker-on-the-go. This really confused me, since I haven't given any interviews lately.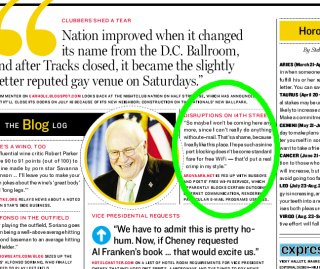 Sure enough, right there on page 49 of today's edition (in PDF), in "The Blog Log" section under the heading "Disruptions on 14th Street," is a quote from my recent entry on the port blocking at Busboys & Poets. Perhaps it's no coincidence that that same post was also mentioned quite recently on DCBlogs. Is it just me, or does the chosen quote coupled with the succeeding summary make me sound like a whiny brat?
As an intellectual exercise on the intricacies of intellectual property law: It seems that the Express chose not to follow the terms of my license before reproducing my work, as they did not include my full name. However, I would think that their quoting qualifies as Fair Use, and thus is exempt from that need. The scaled-down reproduction associated with this entry was created in the good faith of fair use, but if in some insane case where they came after me for it, would I be able to leverage the potential violation of my own license as an offensive defense? I'm curious what a real lawyer might have to say about that. I also wonder if the author of the Blog Log even noticed I had a Creative Commons license.
So yeah, right there between the horoscope and Dick Cheney. Does that make me famous by some sort of Law of Transitive Inverse-Square Print Distance Fame? I hope he doesn't rub off on me in other ways. I would really hate for people to think I'm predisposed to shooting them in the face.