Brian Drinks Java: Chromatic Coffee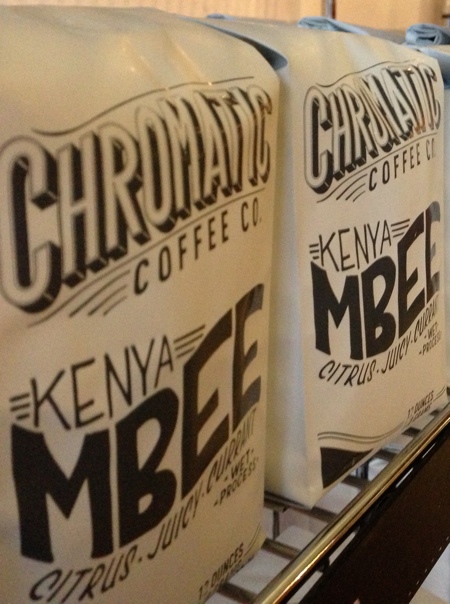 Everything old is new again, and that includes Chromatic Coffee in Santa Clara, California. Formerly Barefoot Coffee, longtime visitors were surprised by the sudden change in name and signage. But concerns that the hangout would lose its charm or passion for great joe were quickly ameliorated: The staff tells me that the owner simply decided to open his own roastery to go with the shop – which only means even more interesting micro-roasts and single-origin coffees to experience! And the warm interior, friendly and professional staff, funky playlist, and ever-changing gallery of local art all remain, as welcoming as ever.
Chromatic Coffee runs two primary coffee stations. The first is a three-head La Marzocco rotary espresso machine, providing shots for the usual selection of lattes, macchiatos, cappuccinos, and doppios. Two time-modded grinders provide the day's pair of espresso selections. The baristas are well-trained and know their product. When I arrived shortly after opening one morning, the barista Christine was still dialing in the machine to provide the optimum extraction for that day's beans: grind-pull-sip-toss-adjust, grind-pull-sip-toss-adjust, grind-pull-sip-toss-adjust. Her extra few minutes of effort paid off in the end, though, with an excellent cafe latte: The Emperor blend she used held an excellent sweet chocolate, but with enough brightness to kick over the perfectly micro-foamed milk. And all topped with the a lovely bit of art that it seems we've all come to take for granted. The Guatamala Eucaliptos in the second grinder provided me with a doppio that landed on my tongue with a mild start, but quickly evolved into a swath of fruit and earth (the packaging describes it as "cherry cola").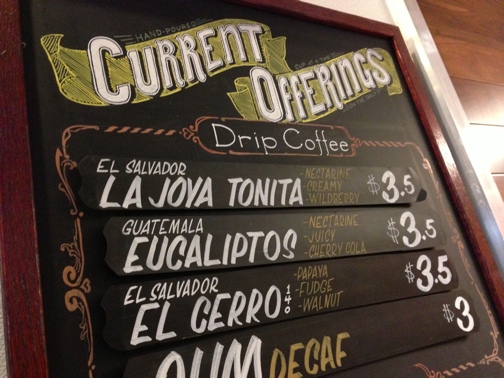 The second of Chromatic's stations is a four-funnel manual pour-over stand, used to highlight the company's selection of single-origin beans and artisan roasting. Each order is individually ground, filtered, and poured by hand into a single cup – a meticulous process, but one that brings out the flavor characteristics of each coffee. If you're looking to experience the aroma and flavor of a particular region of coffee, this is how you want to do it. At the recommendation of Kyle, I sampled the El Cerro from El Salvador, and was thoroughly surprised by the different ends of the flavor spectrum it yielded: a tart fruitiness on the top with a deep base of chocolate underlying.
Chromatic Coffee's ample seating and medium-to-large tables make it a great place to meet friends for a chat, or gather with larger groups. Coupled with the free wifi, they also make Chromatic an excellent spot for a laptop-bug to work while staying caffeinated. But please, no mooching! And a typical assortment of pastries are delivered fresh each morning, if you need more than just caffeine to function.
Chromatic Coffee is located at 5237 Stevens Creek Blvd. in Santa Clara, California. Follow @CHROMATICCOFFEE on Twitter, @chromaticcoffee on Instagram, and find them on Facebook. For more photos, be sure to check out my Chromatic Coffee set on Flickr.
Laptop Friendly: Yes
Size: Large
Rating: